Visit the Small Publishing in a Big Universe Marketplace in the Dealers Room at BayCon 2023!
Meet the authors and purchase personally signed editions!
July 1, 2023 – July 4, 2023
Santa Clara Marriott, Santa Clara, California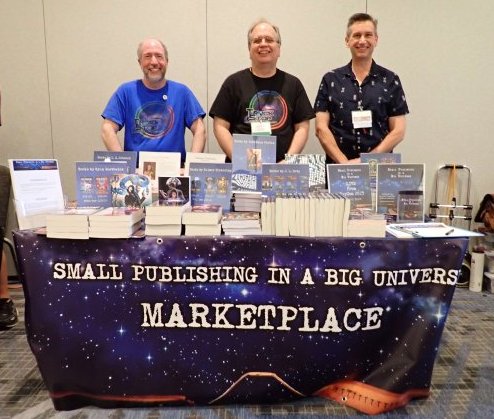 Palmer Pickering
(attending)
Palmer Pickering has been writing fiction since she was eight. She received her BA in American Studies from Wesleyan University, with concentrations in Religion and Race Relations. She currently works in Silicon Valley in the gaming industry and high tech. She lives and writes in the magical redwood forest of the Santa Cruz Mountains, California.
J. L. Doty is a full-time SF&F writer, scientist (Ph.D. Electrical Engineering, specialty laser physics), and former running-dog-lackey for the bourgeois capitalist establishment. He writes hard SF, epic fantasy and urban fantasy, frequently with strong, YA themes.
Ryan Southwick
(attending)
Ryan Southwick decided to dabble at writing late in life, and quickly became obsessed with the craft. His technical experience, medical skills, and lifelong fascination for science fiction became the ingredients for his book series, "The Z-Tech Chronicles", which combines elements of each into a fantastic contemporary tale of super-science, fantasy, and adventure, based in his Bay Area stomping grounds.
Jonathan Fortin has had short fiction been published in Dark Recesses Press, Allegory E-Zine, and Siren's Call magazine. Jonathan is an affiliate member of the Horror Writers Association, a graduate of the Clarion Writing Workshop, and a graduate of San Francisco State University's Creative Writing program.
Kelley York and Rowan Altwood
Kelley York can be found with her wife playing video games and D&D in the redwoods of the Northern California coast. Her stories are a mishmash of queer characters, mental health issues, dark twists, bittersweet endings, and the macabre. In addition to writing, Kelley is the mastermind behind Sleepy Fox Studio, creating book covers for other authors like her.
Rebecca Gomez Farrell still refuses to say "Bloody Mary" three times into a mirror, though she'll write stories about the people who do. Her "Wings Rising" epic fantasy duology is published by Meerkat Press.
L. S. Johnson writes about the past to better understand the present, and about monsters to better understand ourselves. She is the author of the Chase and Daniels quartet of queer gothic novellas and over 40 short stories.
Michael Thal is a freelance writer and author in Los Angeles, California. Michael began his career in public education. Due to a severe hearing loss, he left his tenured sixth grade teaching assignment to learn the writing craft. Michael has written over 80 articles for magazines like Highlights for Children, Fun for Kidz, Writer's Digest, and San Diego Family Magazine.