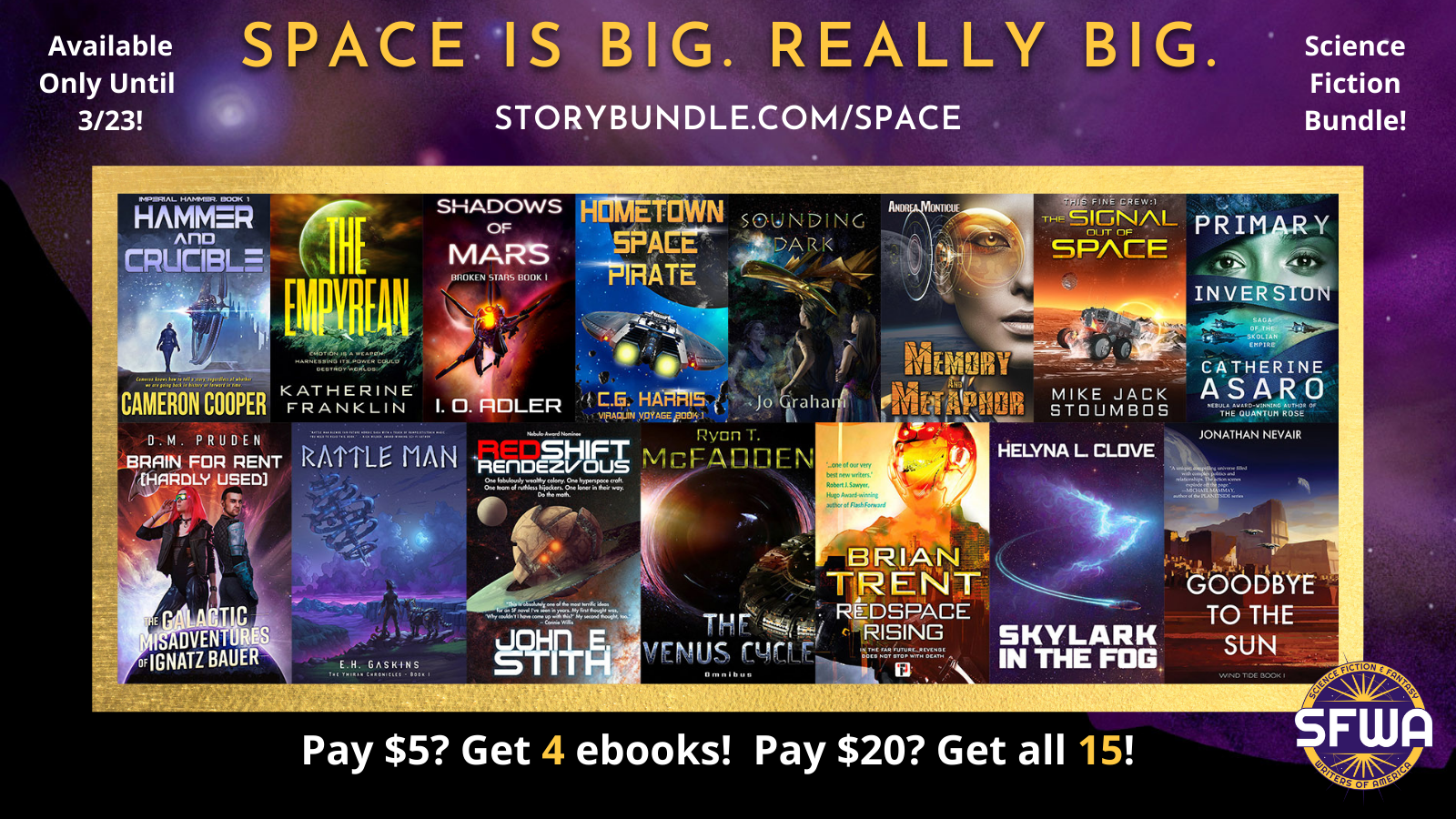 The late, great, Douglas Adams wrote: "Space is big. You just won't believe how vastly, hugely, mind-bogglingly big it is. I mean, you may think it's a long way down the road to the chemist's, but that's just peanuts to space." Perhaps the only thing bigger than space itself are the stories that take place within it, and in the latest bundle curated by SFWA, we have 15 great ones for you at one low price. We hope you'll join us for this entertaining ride between the stars.
The Science Fiction and Fantasy Writers Association (SFWA) is a nonprofit organization dedicated to promoting, advancing, and supporting science fiction, fantasy, and related genre writing around the globe. For this bundle, the SFWA Independent Authors Committee had the pleasure of sorting through over nearly a hundred excellent submissions! It was tough, but we narrowed our selection down to the ones we thought you'd enjoy the most.
In Brain For Rent (Hardly Used), a conman wrestles a ship's AI that's taking up space in his skull. In Hometown Space Pirate, an unlikely protagonist fights to save an alien from a race of AI beings. Redshift Rendezvous is a hard science fiction work by John E. Stith, an author praised by Dan Simmons of Hyperion fame. Primary Inversion, by Nebula Award-winning author Catherine Asaro, features a bioengineered fighter pilot. In Skylark in the Fog, a group of space scavengers bite off a bigger adventure than they wanted when encountering a powerful enemy, and have to ally with a monarch who can control AIs. This was a fantastic group of submissions so solid that cutting them down to these fifteen gems was quite a task — but we think the result speaks for itself.
You're going to love this bundle.
– Michael Mammay and SFWA
---
For StoryBundle, you decide what price you want to pay. For $5 (or more, if you're feeling generous), you'll get the basic bundle of four books in any ebook format — WORLDWIDE.
The Empyreanby Katherine Franklin
Shadows of Marsby I.O. Adler
Hometown Space Pirateby C.G. Harris
Hammer and Crucibleby Cameron Cooper
If you pay at least the bonus price of just $20, you get all four of the regular books, plus ELEVEN more books for a total of 15!
The Venus Cycle Omnibus by Ryan T. McFadden
The Signal Out of Space by Mike Jack Stoumbos
Goodbye to the Sun by Jonathan Nevair
Redshift Rendezvous by John E. Stith
Sounding Dark by Jo Graham
Skylark in the Fog by Helyna L. Clove
Redspace Rising by Brian Trent
Rattle Man by E.H. Gaskins
Brain For Rent (Hardly Used) by D.M. Pruden
Primary Inversion by Catherine Asaro
Memory and Metaphor by Andrea Monticue
This bundle is available only for a limited time via http://www.storybundle.com. It allows easy reading on computers, smartphones, and tablets as well as Kindle and other ereaders via file transfer, email, and other methods. You get a DRM-free .epub for all books!
It's also super easy to give the gift of reading with StoryBundle, thanks to our gift cards – which allow you to send someone a code that they can redeem for any future StoryBundle bundle – and timed delivery, which allows you to control exactly when your recipient will get the gift of StoryBundle.
Why StoryBundle? Here are just a few benefits StoryBundle provides.
Get quality reads: We've chosen works from excellent authors to bundle together in one convenient package.
Pay what you want (minimum $5): Youdecide how much these fantastic books are worth. If you can only spare a little, that's fine! You'll still get access to a batch of exceptional titles.
Support authors who support DRM-free books: StoryBundle is a platform for authors to get exposure for their works, both for the titles featured in the bundle and for the rest of their catalog. Supporting authors who let you read their books on any device you want—restriction free—will show everyone there's nothing wrong with ditching DRM.
Give to worthy causes: Bundle buyers have a chance to donate a portion of their proceeds to The Science Fiction and Fantasy Writers Association!
Receive extra books: If you beat the bonus price, you'll get the bonus books!
StoryBundle was created to give a platform for independent authors to showcase their work, and a source of quality titles for thirsty readers. StoryBundle works with authors to create bundles of ebooks that can be purchased by readers at their desired price. Before starting StoryBundle, Founder Jason Chen covered technology and software as an editor for Gizmodo.com and Lifehacker.com.
For more information, visit our website at storybundle.com, tweet us at @storybundle and like us on Facebook. For press inquiries, please email press@storybundle.com.